The UK Pyrotechnics Society held its third Annual General Meeting in Streatham, South London on Saturday. The day was a total success with a record turnout! Over 27 people attended and there were a number of interesting talks and demonstrations to augment the typical business of the day. Chairman Richard Harwood started by setting out the society's plans for the year ahead, and how the organisation intends to develop and work with other organisations in the future.
Phil Dunford provided a slideshow talk of firework labels and effects of days gone by. Phill Cooper gave a demonstration of star rolling principles and technique, and Richard talked about his recent visit to Liuyang, China.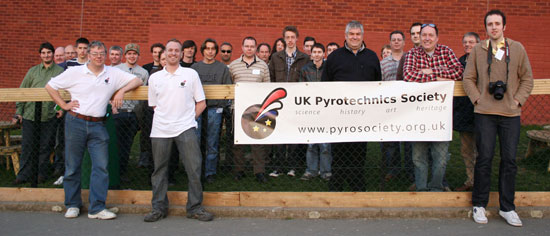 Stephen Miller M.I.Exp.E. of Live Action FX Limited presented a very informative and entertaining talk about a particular special effects project that involved explosively demolishing an Indian Temple for a film. The AGM was brought to a close with a professionally fired fireworks display featuring traditional English setpieces.
The UKPS kindly thanks Bishop Thomas Grant School, Streatham for hosting our AGM. A special thanks is due to all those who attended or helped in any capacity to organise the event. A copy of the opening presentation will be made available online shortly.